Pavlodia

—  

Capital City

  —

Monument of Peace of Lakadamia, Center of Pavlodia


Flag

Location of the Capital District (Pavlodia)
Country
Lakadamia
Region
Capital District
Official Language
Frajisian
Population

(September 2015)

 • Urban
2,341,482
 • Metro
3,629,742
Demonym
Pavlodian
Time zone
COLGT (UTC+10)
Website
villedepavlodia.lk (FR)
cityofpavlodia.lk (EN)
Pavlodia (Ilativiano: Pavlodi, Espaneole : Pavlodiàs, Allemanju : Pavordia, Janaiese : パヴ見よディ Pavlodi) is the capital city of Lakadamia. It's also the only city which is located in the region of the Capital District. It's also the second most populated city of Lakadamia , just behind Misneyne. The city is located on the coast of the Capitol Lake, the biggest lake of Lakadamia. The official language of the city is Frajisian.
The city is divided into 13 Arrondissements, and divided on 3 Sectors, West, Center and East. Apart Pavlodia, only Misneyne and Milnev are divided into Arrondissements
Sectors & Arrondissements

Edit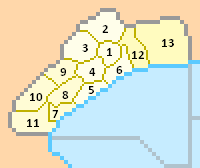 Nbr
Name (Engju)
Population
Sector
01
Paix (Peace)
399,013
CENTER
02
Nord (North)
208,861

CENTER

03
Jardins (Gardens)
211,554

CENTER

04
Palais (Palace)
263,321

CENTER

05
Lac (Lake)
142,354

CENTER

06
Parkéa
107,104

CENTER

07
Damati
186,923
WEST
08
Musées (Museum)
124,301
WEST
09
Mavarnan
108,117
WEST
10
Elvitie
213,316
WEST
11
Sud (South)
235,462

WEST

12
Rouvaris
99,764
EAST
13
Mavalis
41,347

EAST

Pavlodia
2,341,482
Community content is available under
CC-BY-SA
unless otherwise noted.