Golden Land
Member station
GTV
National selection events
A Grande Song: #02
Appearances
First appearance
#01
Last appearance
-
Best result
3rd: #01
Worst result
-

Golden Land has participated in the Fantasia Contest since the first edition.
GTV
the official broadcast of
Golden Land
confirmed
Golden Land
's participation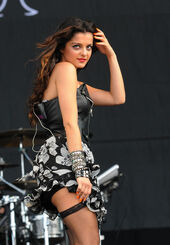 in the 9th of August of 2015. At the same day the Golden representetive was chosen.
Bebe Rexha
was chosen to represent her homecoutntry and at the 12th of August her song was revealed. Her song with the title
Cry Wolf
will represent the
Golden Land
in the 1st edition of the
Fantasia Contest
. The country qualified to the final, reaching the 2nd place in the first semi-final with 123 points. It got the 3rd place in the final with 161 and that made the country automattically qualified for the 2nd edition.
On the 14th of September of 2015 the official broadcaster of the Golden Land GTV, officially confirmed that the Golden Land will be in the 2nd edition of the contest. The broadcaster also revealed the artist that will represend the country in the 2nd edition of the Fantasia Contest. The singer was the famous Ariana Grande. A small National Selection will happen and the viewers have to choose out of 6 Ariana Grande songs, the one that will represent the Golden Land in the 2nd edition of the Fantasia Contest.
Contestants
Edit
Table key
Active

Inactive
Community content is available under
CC-BY-SA
unless otherwise noted.